Welcome to the Rabbi Mark and Morah Renée Panoff Preschool
Our integrated secular and Judaic programs are play-based and developmentally appropriate, with a focus on experiential learning. We provide high-quality early childhood education, based on the most current research in the field. The materials and activities are thoughtfully provided to encourage problem solving and creativity, stimulate curiosity, promote independence, and foster positive self-esteem. We welcome children of all backgrounds to play, learn, and grow in our hands-on, experiential, safe, and nurturing preschool environment. Personal tours are available and are a great way to learn even more about us.
Our highly qualified teachers nurture each child's social, physical, intellectual, emotional, and spiritual growth through interactive and meaningful learning experiences. In the child-friendly and stimulating environment of the classroom, children are encouraged to participate in both self-directed and planned activities. These include art, music and movement, dramatic play, sensory experiences, cooking, science, math, language/literacy, and small and large motor activities.
Parent involvement is welcomed and encouraged throughout the year; teachers and parents work together as a team. Our teachers begin the year with a home visit. This is a unique opportunity for your child to become comfortable with their teachers, and a time for you to share information with them. During the year, teachers communicate openly and frequently with parents by way of email, photo sharing, conferences, classroom newsletters, and day-to-day interactions. Additionally, families have many opportunities to volunteer or join in our programs and special activities.

Allison Weil
Director
About Our Facility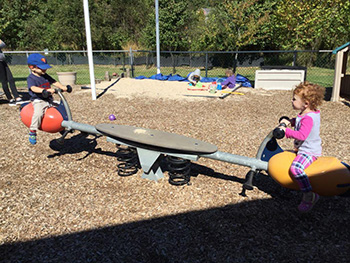 Our preschool is located within Temple Isaiah on a 20-acre campus in Howard County, just south of Columbia, Maryland. We are easily accessible from Routes 29 and 108. Large, bright classrooms provide plenty of space for active learning. Each classroom has outdoor access to either our playground or courtyard, child-appropriate bathrooms, and is well-stocked with materials, toys, and books. Our synagogue has recently expanded to include a new Chapel and Parent Lounge. Our preschool playground is now connected to a special, cushioned Trike Track for our tricycles.